TealDesktop Plus
1.10
Launch applications with TealDesktop, the themed replacement for the standard system launcher screen with tabs, multiple card folders, drag and drop, and more
Last update
20 Mar. 2006
Licence
Free to try |

$24.95
OS Support
Mobile
Downloads
Total: 217 | Last week: 0
Ranking
#181 in Utilities
Publisher
Tealpoint Software
TealDesktop Plus Publisher's Description
Launcher with Style: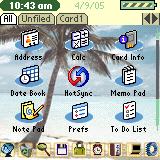 Power
Launch applications with TealDesktop, the themed replacement for the standard system launcher screen.
With features to satisfy every power user, TealDesktop supports category tabs, multiple card folders, document launching, drag and drop, tap-and-hold menus, background images, fill patterns, and much more.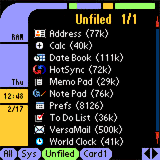 Themes
The addition of Themes, however, really lets TealDesktop shine. Other launchers limit you to a few visual 'skins', while TealDesktop themes can change functionality too. Want your launcher screen to look and work like a classic Macintosh? Windows? A tricorder? TealDesktop can do it.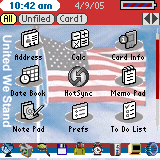 Customization
Not satisfied with presets? TealDesktop lets you customize fonts, colors, patterns, and backgrounds. An integrated Theme Editor is even included so you can modify or make your own creations from scratch. PalmOS 5 compatible.


BONUS: A special for Handango, this enhanced bundle includes TealPoint VersionMaster for PalmOS. A $10 value, VersionMaster effortlessly tracks all your TealPoint applications, finding, downloading and installing new updates, when available.

A leading provider of software solutions for handheld devices, TealPoint Software currently offers 27+ productivity products for the PalmOS platform. Selections include TealDoc, the superior document reader, TealMovie, the award-winning multimedia player, TealAuto, the complete vehicle service and expense log, TealPhone, the replacement address book, and TealLock the definitive PalmOS security solution.


Take advantage of TealPoint's Free 30-Day Trial Policy on all products.
Look for Similar Items by Category
Feedback